Welcome to Expats-Fribourg! This website is aimed at expatriates currently living or working in the canton of Fribourg, or who are about to move to Fribourg, and would like to discover more about their new surroundings. Expats-Fribourg provides you with useful resources for your day-to-day life and has lots of tips on how to make the most of your free time in this picturesque canton.

Every year, the Fribourg Development Agency organizes one or two social events specifically for the expatriate community; a great way for you meet and share your experiences with other expats.

To ensure that you donít miss out on anything, why not subscribe to our newsletter? It contains information on expat events, as well as other events in and around the Fribourg area.


Welcome to the canton of Fribourg!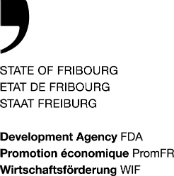 Contact
Fribourg Development
Agency
Bd. Pérolles 25
P.O. Box 1350
CH-1701 Fribourg
Switzerland
phone: +41 26 304 14 00
fax: +41 26 304 14 01
email: promfr@fr.ch